Notifications after changing parts
Here's some info on notifications, why they appear and what it means
Example images below are from an iPhone 13 Pro Max running iOS 16.0
Settings > General > About > Parts and service history
– shows list of part changes the device knows about.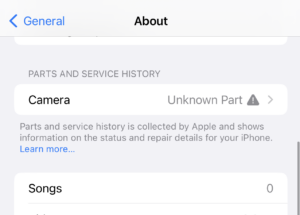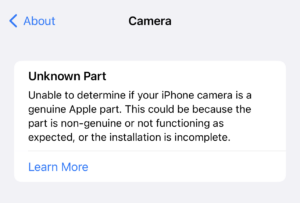 Serialisation, what is it?
Some manufacturers serialise parts. This means, when a part in the device is replaced with another part, the device will recognise the part has been changed and will show a notification.
The purpose of this, is to make the user aware that the repair was "unauthorised" and likely used none-genuine parts. In other-words, the repair was not carried out by the manufacturer or someone authorised by the manufacturer to repair your device, and / or, the parts used are not made by the manufacturer. However, this is not always the case.
Let's take a look at an example
The example image shows an iPhone 13 Pro Max, which has had it's rear camera replaced. The part used was a genuine Apple part taken from another iPhone 13 Pro Max. However, because the serial number on the replacement camera is different to the original camera, the phone has shown a notification as the repair was not "authorised" by Apple.
This generally happens when replacing screens, batteries, cameras and some other components. 
Functionality generally isn't effected, although, when it comes to iPhones with replacement battery notifications, the battery health will not show under settings. However, the battery charge percentage % will still fully work and be shown. At the time of writing this, battery health can still be checked using third party software.
The rear camera on this 13 Pro Max example, fully works.
Some questions & answers regarding notifications.